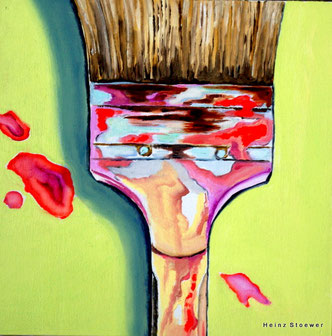 Wenn man Kulturbeiträge in der Zeitung liest, Kunstmessen oder Galerien besucht, kann man schnell den Eindruck bekommen, dass Malerei und malerisches Können in der Kunst von heute nicht mehr wichtig sind! Dilettantisch anmutende Installationen, Gemälde und Fotos allerorten.
Kritik an der Gesellschaft, der Politik und vielen Unzulänglickeiten des Lebens stehen im Fokus, die Qualität der Umsetzung der Idee ist dabei mehr oder weniger irrelevant. Solche Kritik ist wichtig, aber sie sollte nicht die Essenz der Kunst ausmachen ohne jede Rücksicht auf die Art der Präsentation. Eine interessante und qualitativ gute Präsentation, gerade auch in der Malerei, kann jede dahinter stehende Idee, Inspiration oder Gesellschaftskritik befördern und für ein grösseres Publikum interessant machen.
Ausserdem halte ich es für spannender, wenn schwierige Themen nicht auch nur in einer verstörenden Art dargestellt werden. Es muss nicht immer der Holzhammer ausgepackt werden, wenn man etwas sagen möchte!
Und vielleicht hat in Zeiten von Instagram, facebook und fake news auch eine subtilere Art der Darstellung Chancen.
Mit meinem blog reflektiere ich über Dinge, die mich beschäftigen, meine Ideen zur Kunstwelt und meine Malerei.
If you read articles about culture in the newspapers, visit artfairs or galleries, you can get easily the impression that painting and painting skills are now unimportant in the artworld! Amateurish installations, paintings and photos everywhere.
Critics of society, politics and the shortcommings of life are in focus, the quality of their presentation seems irrelevant.
Critcs are important, but it shouldn't make the essence of art without little thought about the way and the skills it is done. A good and interesting presentation can benefit the idea, inspiration or critics, and make it more interesting for a broader public.
And in addition I think it is better not to transport difficult subjects with a disturbing presentation.
Even in the times of instagram, facebook and fake news a nicer and more subtle way of presentation has its chances!
In my blog I want to share my thoughts about things that matter to me, the artworld and my painting!