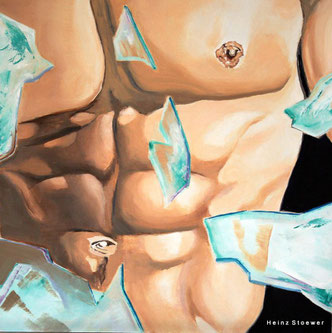 Jeder Mensch ist anders und reagiert anders auf visuelle Eindrücke wie ein Gemälde. Was den einen begeistert und tief berührt ist für andere nichts Besonderes oder sogar negativ besetzt. Aber es gibt auch Bilder, die nur in wenigen Menschen einen Impuls oder Emotionen auslösen und dies meist deshalb, weil der Maler oder Fotograf wenig von sich selbst preisgeben wollte. Also wird auch die Arbeit diese Neutralität ausstrahlen.
Aber für mich ist es wichtig, dass meine Malerei bewegt, Emotionen transportiert und hervorruft. Ob die Gefühle des Betrachters dann eher positiver Natur oder eher negativ und ablehnend sind, wird je nach der Erfahrungswelt und dem Standpunkt des Betrachters unterschiedlich sein.
Meine Malerei soll einen Impuls auslösen, Gedanken anstossen und im besten Fall wird der Betrachter sich angesprochen fühlen und meine Arbeit ihm etwas geben.
Positive Rückmeldungen sind dabei natürlich Ansporn und Motivation für meine künstlerische Arbeit.
Die Kommunikation mit dem Betrachter kann über das bearbeitete Sujet, die gewählten Farben oder die bildnerische Komposition geschehen.
Mit der Bedeutung der Auswahl der Farben, werde ich im nächsten blogpost beschäftigen.
Everyone is different and reacts in a different way when confronted with visual impressions like a painting. What touches one person deeply may be nothing special for another one or is even negatively received. But there are works that don't touch and don't evoke a lot of emotions. Most of the time this is happening because the painter or photographer didn't want to share his or her emotions and inner feelings with the work. That is way the work shows exactly this!
But for me as a painter it is important that may painting is touching, evokes and transports emotions. Whether those feelings are positive or negative depends on the experiences and the point of view of the viewer.
My painting should trigger an impulse, thoughts and in the best case it will give something to and mean something for the viewer. Positve reactions are of course motivating for my artistic work.
Communicating with the public is possible through the chosen subject of the painting, the choice of colours or the compositon of the work.
In my next blogpost I will talk about the reasons for my choices of colours.