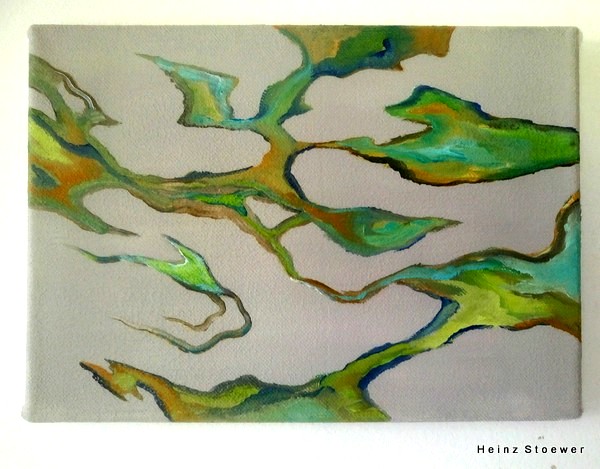 Zurück aus der corona-Pause
Nachdem sich jetzt unser Leben wieder etwas mehr dem "Normalzustand" angenähert hat, erscheint es mir auch passend meine Beobachtungen und Gedanken zum Kunstmarkt wieder aufzunehmen.
Und es ist ja weiß Gott eine Menge geschehen, aber bezogen auf den Kunstmarkt geschieht leider eher wenig.
Diese Erfahrung habe ich persönlich bei meiner Ausstellung im Mai gemacht, wobei ich natürlich verstehe, dass Besucherbeschränkung und Maskenpflicht einen Vernissagebesuch wenig attraktiv erscheinen lassen.
Aber auch die global player leiden: keine Art Basel, keine Art Cologne und ob es eine Berlin Art Week geben wird steht in den Sternen.
Viele fahren die online-Präsentationen hoch, aber ein Kunstwerk verkleinert auf einem Bildschirm zu sehen, gibt einen ersten Eindruck, aber auch nicht viel mehr. Dennoch ist es ein Weg um zu zeigen, dass wir noch da sind und in den Ateliers neue Werke entstehen, die es zu entdecken gilt.
Da ist ein Atelierbesuch eine gute Möglichkeit den anderen eine Nasenlänge voraus zu sein.
Back from my corona-break
Now that our lives in Germany have come closer to a state of normality I find it suits well to go back to commenting and sharing my thoughts about the artmarket.
And a lot has happened, but on the artmarket we are far way from normality.
My experience during my artexhibition in May reflects exactly this.
Of course I understand that a restriction of the number of visitors and the duty to wear a mask are not exactly enticing a visit of a show opening.
But the global players are suffering too: no Art Basel, no Art cologne and nobody knows what will happen with the Berlin Art Week in the fall.
Many are upgrading their online presentations, but looking at a small screen just gives a first impression. But it is a way to show we are still there and there are a lot of new works in the studio waiting for discovery.
A studio visit by appointment seems a good opportunity to be ahead!