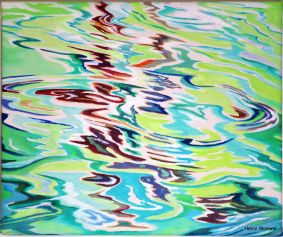 Uns allen ist es wahrscheinlich schon so ergangen, dass wir ein Gemälde, ein Foto oder eine Skulptur gesehen haben, die uns so fasziniert hat, das wir sofort an einen Kauf gedacht haben.
Wenn die Arbeit, die wir gesehen haben, in dem preislichen Rahmen ist, der einen Kauf ermöglichen würde, bleiben dennoch Fragen offen:
Wird die momentane Faszination anhalten?
Wenn ich das Werk erwerbe, sollte ich es dann rahmen lassen und wenn ja, wie?
Habe ich einen Platz zuhause oder in meinen Geschäftsräumen, der für das Werk passend ist?
Aus diesen Gründen ist es nach meiner Einschätzung ratsam, nicht unbedingt spontan zu entscheiden und in Ruhe zu überlegen.
Vielleicht frage ich den Künstler oder den Galeristen, ob das Werk zur Probe vorbeigebracht werden kann, damit ich sehe, ob es mir auch an dem hierfür vorgesehenen Ort so gefällt, wie ich es mit vorgestellt habe. Dabei stellt sich vielleicht heraus, dass der vorgesehene Platz nicht groß genug ist oder einfach nicht passt.
Eine gute Möglichkeit ist auch, zu erfragen, ob man die Arbeit zunächst mieten kann, um dann erst die Kaufentscheidung zu treffen, wenn das Werk einige Zeit in meiner Umgebung war.
Danach fragen kann man immer!
Many of us have been so fascinated by an artwork that we immediately thought of buying it.
Even if the price is in a range which is acceptable for us, there remain questions:
Will the fascination with this piece last?
If I buy it, will I want to frame it and how?
Do I have a place at home or in my office which is right for this artwork?
So I think it is wise not to decide spontanously and to think calmly. Maybe I ask the artist or the gallerist to deliver the painting for trial so I can see whether I like it where I thought of hanging it. It is not so unusual that the place or the room is to small or just not right for this piece of art.
Asking the seller if it is possible to rent first in order to make the decision to buy later on can be very helpful.
So don't hesitate to ask.