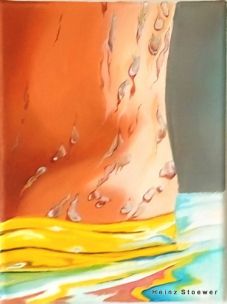 Wenn man in eine Galerie geht oder sich eine der vielen Kunst-websites anschaut, ist das Angebot unfassbar groß, unübersichtlich und vielfältig.
Und die Preise reichen von sehr günstig für manche prints bis zu Millionensummen für Werke der top-player.
Es stellen sich mehrere Fragen:
Was ist für das eigene Empfinden das Richtige?
Was begeistert mich?
Was spricht zu mir?
Mag ich lieber Realistisches, Abstraktes oder ein ganz reduziertes Farbfeld?
Welches Bild wird mir jeden Tag Freude bereiten, wenn ich es ansehe?
Ist es mir wichtig, was meine Freunde, Verwandte oder Kollegen dazu sagen?
Oder man ist eher der spontane Typ und sieht ein Werk, dass einen – aus welchem Grund auch immer – fasziniert und nicht mehr los lässt.
Für mich ist diese persönliche Begeisterung und Faszination, die manchmal von einem Gemälde, einer Fotografie oder Skulptur ausgeht, der entscheidende Faktor – sofern es für mich erschwinglich ist.
Wie geht es Ihnen beim Kunstkauf???
Was ist wichtig für Sie???
When You enter a gallery or look at one of the many art-websites there are so many different offers.
Prices go from little sums for some kind of print to millions for works of the top-players in the artworld.
There are a few questions here:
What feels right for me personally?
What is exciting for me looking at art?
What talks to me?
Do You prefer something realistic, abstract or just a colourfield?
What kind of artwork will bring joy to me everyday when looking at it?
Is it important for me what my friends, relatives or colleagues think about it?
Or perhaps You are the spontanous type when looking at a painting and You are fascinated right away and You are spellbound by this piece.
For me personally this kind of fascination and enthusiasm for an artwork is the most important factor – if I can afford this work!
What are Your experiences when looking for a piece of art???
What is important for You?