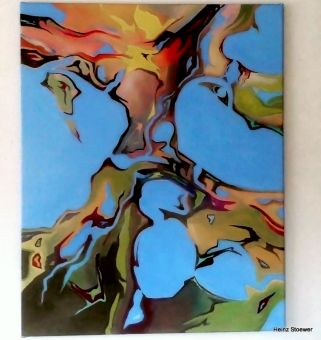 Als ich mit meiner malerischen Arbeit begonnen habe, konnte ich sehr schnell eine Veränderung meines Sehens feststellen. Ich begann Farben und Farbnuancen genauer wahrzunehmen und mein Blick wurde viel genauer und detailbewusster. Zu meinem Erstaunen stellte ich fest, dass es Lichtsituationen gibt, in denen alle Gegenstände und die Landschaft unterschiedliche Varianten einer einzigen Farbe annehmen.
Bei meiner Arbeit spielt die Auswahl der Farben naturgemäß eine zentrale Rolle. Ich favorisiere nicht bestimmte Farben, wohl aber verwende ich gerne besondere Farbkontraste und bevorzuge eine eher farbintensive Malerei. Ein Gegenpol dazu dürften die Arbeiten des bedeutenden deutschen Künstlers Anselm Kiefer sein, der sich sehr oft in düsteren Farben und Variationen von grau, braun und schwarz bewegt. Grau ist in all seinen Schattierungen eine tolle Farbe, aber ich verwende sie lieber in Kombination mit leuchtenden Farben wie scharlachrot,orange oder türkis.
Die Auswahl der verwendeten Farben ist eine der Charakteristiken der malerischen Arbeit.
When I started painting I was astonished how my way of seeing things and watching changed pretty quickly. I started to look more at details and realized colours and shades more precisely. For example to my astonishment I found out that there are light situations where objects and a whole landsape have just variations of one colour.
The selection of colours obviously has a central role in my work.I don't have especially favourite colours but I like to work with special colourcontrasts and I favor painting with intense colours.
One of the antipodes should be the famous German painter Anselm Kiefer who often uses dark colours and variations of grey, brown and black.
Grey is in all its shades a great colour, but I prefer to use it in combination with bright colours like scarletred, orange or turqoise.
Which colours you choose and prefer is one of the characteristics of a painter's work.