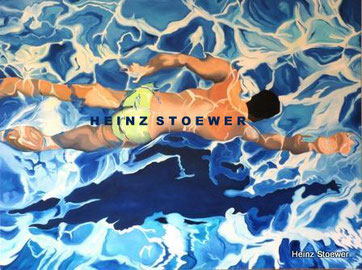 the diver, 120x160cm,oil/canvas
Wenn man sich als Maler oder generell als Künstler darüber informiert, was wichtig ist um erfolgreich zu sein, kommt immer der Rat: Bleib bei deinem Markenkern! Und natürlich ist es wichtig erkennbar zu sein, sich abzuheben und etwas eigenes zu entwickeln, das die eigenen Werke erkennbar macht. Dabei gibt es aber deutliche Unterschiede wie weit oder wie eng sich der Künstler dabei Grenzen zieht oder ob er das überhaupt macht. Ich möchte das am Beispiel zweier deutscher Maler veranschaulichen: Neo Rauch ist immer klar erkennbar mit seinen verstörenden Szenerien, in denen seltsame Personen sich in einer phantastischen Welt bewegen. Bei Gerhard Richter ist das völlig anders: seine abstrakten Rakelbilder sind Welten entfernt von den ganz realistischen Arbeiten wie seiner gemalten Kerze; aber seine enorme malerische Kompetenz tritt immer hervor!
Für mich ist es wichtig, dass ich mich nicht selbst in meiner Kreativität einschränke und mir im Bewußtsein dieser Anforderungen meinen künstlerischen Freiraum erhalte. Zudem hilft mir eine gewisse Variabilität meine Möglichkeiten und meinen Stil fortzuentwickeln: Dinge, die ich bei abstrakten Farbkompositionen entwickle, tauchen dann z.B. wieder bei Körperdarstellungen auf. Das oben gezeigte Werk "the diver" ist ein gutes Beispiel dafür, weil die Darstellung der Wasserspiegelung sehr viele abstrakte Elemente enthält, die das Auge des Betrachters dann zu etwas ganz Realem zusammenführt.
Aber ich denke, dass mein Malstil immer erkennbar ist, egal ob es eine figürliche Arbeit, ein abstraktes Bild oder eine Landschaft ist!
If You are looking for advice what is necessary for success as a painter you always hear: stick to your brand!
And of course it is important to be recognizable, distinctable and to develope your own style.
But the important decision is, how far will I go with this?
I want to demonstrate this with the example of two Germen painters. Neo Rauch is always recognizable with his mysterious figures in strange worlds. On the other side Gerhard Richter's abstract works are so far away from his realistic paintings like the famous candle, but his greatness as a painter is always there!
For me it is important that I don't limit myself to much in my creativity. I see the importance of branding, but I want to keep my artistic space. And in addition a certain amount of variability is helping me in developing my personal style: parts of my abstract compositions later show again perhaps in a figurative painting. The painting shown in this blog, is a good example: the water reflections are more or less abstract parts that the human eye puts together to something very real.
I hope that my style of painting is always recognizable even if I switch between figures, abstracts or landscapes.