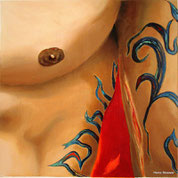 tattoo I, 55x55cm, oil on canvas
When You look at the history of art the male body as an object of art was most of the time shown as an active subject, often in mystical scenes and rarely as an object of desire. This is totally different with female nudes being just that: an object of desire!
And in some of my painting I'm working against this stereotype and present male bodies or parts of those bodies as objects of desire. This goes together with the change of perception in our media and in real life where men nowadays pay much more attention to their looks and are more judged by the way they look. A very interesting example are soccerplayers in the major leagues who obviosly spend a lot of time for haircutting and their tattoos.  They present themselves as objects of desire even in this very butch and aggressive environment that insists on being just heterosexual!